Under Desk Foot Warmer
Features
Under Desk Foot Warmer Mats are low-wattage heated floor mats with a carpeted top surface that act as your personal space heater. Simply place this foot warming pad under your desk to relieve cold feet and toes. One temperature setting. The carpeted surface is warm and soft making this heated office mat a perfect solution for workspaces with cold, hard floors. Improves comfort and performance in the workplace.
Reduce cost of running space heaters by 99%.
Eliminate fire hazards (space heaters cause 50,000 fires every year).
Energy-efficient – uses just 50 watts, 1.3 amps. Dimensions are 18" x 19" x 1/2" and weighs 5 lbs.
ETL listed/certified
Description
Foot Warmer Mat for Under Your Desk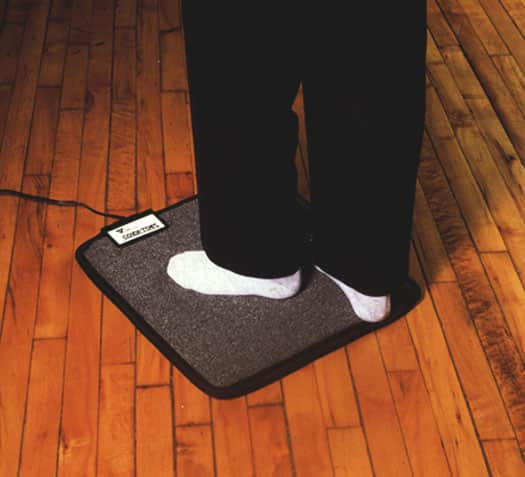 click to enlarge
Under Desk Foot Warmer Mats are low-wattage heated floor mats with a a carpeted top surface that act as your personal space heater. Simply place this Cozy Products foot warming pad under your desk to relieve cold feet and toes. The carpeted surface is warm and soft making this heated office mat a perfect solution for workspaces with cold, hard floors.
Reduce cost of running space heaters by 99%.

Eliminate fire hazards (space heaters cause 50,000 fires every year).

Energy-efficient – uses just 50 watts.
Compare ETL versus UL certification

Improves comfort and performance in the workplace.
One temperature setting.
Size: 18" x 19" x 1/2".
5 lbs.
Uses just 50 watts, 1.3 amps.