Cartwheel Trainer and Balance Beam Mat
Land (Crash) Safely
Features
Cartwheels are easy to learn with our 2' x 6' cartwheel mats. Silk screened hand and foot positioning pictures on one side and a gymnastics balance beam on the other side make this a valuable training aid.
Covered in 18 oz. coated vinyl. 5/8" crosslink foam filler (not low-density, soft, sponge foam).
Hand and Foot prints on top. Beam Stripe on bottom.
Size: 2' x 6' x 5/8". Approximately 6 lbs.
Made in the USA
Description
Cartwheel Mat and Gymnastics Balance Beam - All In One Cartwheel-Beam Mat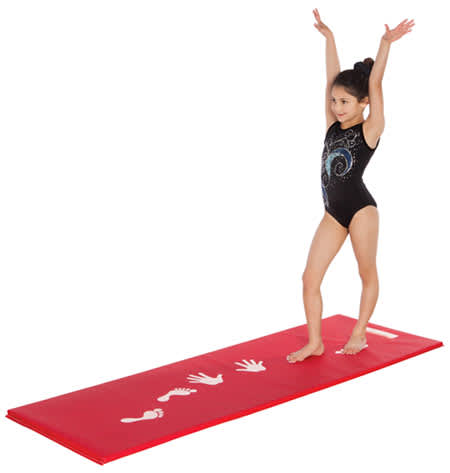 ---
This all-in-one cartwheel beam mat has cartwheel hand and foot placement instructions on one side and a balance beam print on the other. How to do a cartwheel is easy to learn with our 2' x 6' cartwheel mat. Silk screened hand and foot positioning pictures on one side and a gymnastics balance beam on the other side make this a valuable training aid. Make learning to do a carthweel or how to use a gymnastic balance beam easy and fun!
Specifications:
Covered in 18 oz. coated vinyl.
5/8" firm crosslink foam filler (not the low-density, soft, spongy foam stuff).
Hand and Foot prints on one side
Beam Stripe on other side
Size: 2' x 6' x 5/8"
Approximately 6 lbs.
Available Colors: Pink or light blue mat, white markings.

Made in the USA
California Residents: California Proposition 65 Warning Information