Ultimate Diamond Fatigue Mat with Safety Borders (15/16")
Features
Our Ultimate Diamond Plate safety fatigue floor matting is made in the U.S.A with a Durable PVC diamond surface bonded with our "No Glue Bond" technology to a resilient 3/4" Ergo-Flex Foam. Ergo-Flex enhanced foam provides increased durability and resil
Ergonomically designed to reduce worker fatigue and improve comfort. Industry favorite, non-skid, diamond pattern provides an abrasion and slip-resistant surface. Also has four tapered edges for safety.
Surface resists common fluids, most chemicals, and is non-flammable.
Recommended uses include: Dry work areas, automotive and industrial work cells, shipping and packaging work cells, machine shops and maintenance areas.
Made in the USA
Description
Safety Anti-Fatigue Floor Matting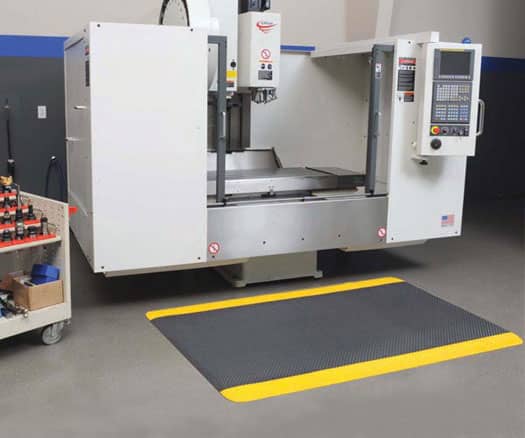 click to enlarge
Recommended Uses:
For mostly dry work areas.
Automotive and industrial work cells.
Shipping and packaging work cells.
Machine shops and maintenance areas.
Specifications:
Mats have four tapered edges for safety.
Product Weight: 2.0 lb/sf
Black with
Yellow Sides

Black with
Yellow Chevron
Durable PVC diamond surface bonded with our "No Glue Bond" technology to a resilient 3/4" Ergo-Flex Foam.
Ergo-Flex enhanced foam provides increased durability and resilience.
Our "No Glue Bond" means "No Delamination" and eliminates worker exposure to dangerous vapors.
Ergonomically designed to reduce worker fatigue and improve comfort.
Industry favorite, non-skid, diamond pattern provides is abrasion and slip-resistant.
Surface resists common fluids, most chemicals, and is non-flammable.
Thickness: 15/16" (3/16" PVC diamond surface bonded to 3/4" closed cell foam).
Limited 3-year guarantee against wear and delamination.
Available only in black with yellow sides or black/yellow chevron.
For solid black, see our Ultimate Diamond Fatigue Mat.
| | | | | | |
| --- | --- | --- | --- | --- | --- |
| Anti-Slip Traction | Anti-Fatigue | Custom Configurations | Wear Resistant | 52% Green By Weight | Made in the USA |
For solid black, see our Ultimate Diamond Fatigue Mat.