Video: The Magic of Martial Arts
Description
DVD: The Magic of Martial Arts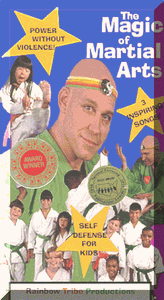 This video is an excellent introduction of the true spirit of martial arts to children. It discusses the realities of environmental violence to children and teaches them the wisdom of running away from potential trouble, whenever possible. Furthermore, it emphasizes that the use of physical techniques against another person is a last resort. The ingenious and creative uses of "magic", music, and comedy make this presentation fun and amusing to watch for both children and adults.
The "Magic of Martial Arts" is a Winner! KIDS FIRST! Coalition for Quality Children's Media GOLD AWARD! National Parenting Publications AWARD OF EXCELLENCE! Film Advisory Board.
Elayne Blythe, president, Film Advisory Board "The Magic of Martial Arts: Power Without Violence" is outstanding in production values, and in bringing such a great message to everyone - that of power without violence, with great lessons in self-control - both emotional and physical. A "must see" for children. Entertaining and inspirational."

Video length is approximately 30 minutes.
Available on DVD.