Deluxe Bi-Layer MMA Mats
Description
Deluxe Martial Arts Mats - Bi Layer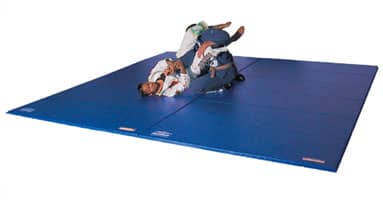 The deluxe martial arts training mats feature a two-layer construction to provide good footing while at the same time providing extra cushion to achieve maximum energy absorption. The bottom layer is 1" thick, ILD 70, high rebound, 3570 Polyurethane foam for cushion, while the top layer is made of 1-3/8" crosslink foam to provide a firmer top surface. Ideal as a judo mat, tae kwon do mat, karate mat, grappling mat, or any other type of martial arts training mat. All sizes feature 2' panels that fold accordion-style for easy storage and transport, along with hook & loop (like Velcro) fasteners on all four sides to enable joining mats side-by-side to make larger areas.
Durable 18 oz. fabric cover.
Total thickness: 2-3/8".
Available in various colors.
Hook & Loop (like Velcro) fastener on all 4 sides.
This product is made-to-order. Please call for current delivery timeframe.