Kids ABC & Numbers Foam Puzzle Mat
Interlocking. A-Z, 0-9
Description
Alphabet and Number Puzzle Mat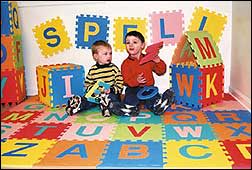 Alphabet and Number Puzzle Mats
One set contains upper or lower case letters from A to Z and numbers from 0 to 9 totalling 36 tiles at 12.5"x12.5"x3/8" each (creates a floor size of a little more than 6'x6'.)

These kids puzzle mats can be used to build colorful boxes, structures, or a soft play area. Great for developing a child's aptitude, creativity, and social play. Number & Alphabet Puzzle Mats have colorful, removable, cut-out numbers and letters to challenge children. They are waterproof and easy to clean. Small enough to fit anywhere, these abc connecting mats are easy to disassemble for moving and storage.
When assembled, creates a 38 sq.ft. foam puzzle mat with 36 pop-out number (0-9) and upper case or lower case letters (A-Z) and edging around the perimeter.
Each tile measures 12.5" x 12.5" and each set covers 38 sq.ft. with edging in place
Creates a floor size of a little more than 6'x6'.
Approx. 3/8 inch thick.
Made from durable, light weight, high density EVA (Ethylene Vinyl Acetate) foam.
Contains no PVC or latex.
Easy to grasp foam toy.
Colors include red, green, blue, yellow, purple and orange. Actual colors may vary slightly.
Cleans easily for years of fun and learning.
Promotes hand-eye coordination and teaches shape, color and size recognition.
Provides a cushion to hard floor surfaces.
Perfect for playrooms, classrooms, daycares or even the grandparents' house!
For ages 3+
Available with upper case or lower case letters.