Ultra Dome - Pommel Horse Mushroom Trainer (No Mat)
Features
The Ultra Dome Pommel Horse, also referred to as the UltraDome Gymnastics Mushroom, features a molded polyethylene dome with a detachable padded top. This unique piece of gymnastics training equipment is easily portable and very stable.
The Ultra Dome Mushroom is designed to be 'stacked', adding nearly 5" for taller beginners. The ideal pommel horse trainer for the club, gym or home.
Size: 28" diameter, 18" tall., Weight: approx. 40 lbs., Trainer Color: Royal Blue
Made in the USA
Description
Ultra Dome - Pommel Horse Mushroom Trainer (No Mat)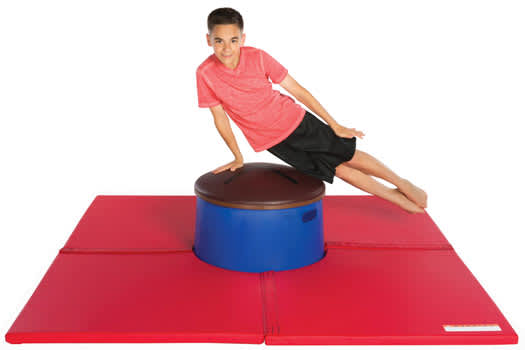 Gymnastics Training Equipment: UltraDome Pommel Trainer
The Ultra Dome Pommel Horse, also referred to as the UltraDome Gymnastics Mushroom, features a molded polyethylene dome with a detachable padded top. This unique piece of gymnastics training equipment is easily portable and very stable. The Ultra Dome Mushroom is designed to be 'stacked', adding nearly 5" for taller beginners. The ideal pommel horse trainer for the club, gym or home.
Molded polyethylene dome with detachable padded top.
Designed to be 'stacked' adding nearly 5" for taller beginners.
Size: 28" diameter, 18" tall.
Trainer only. Mat sold separately.
Weight: approx. 40 lb
Available in Royal Blue.
Price includes ground shipping within the contiguous USA.
Please allow 2-3 weeks for production and delivery.

Made in the USA
California Residents: California Proposition 65 Warning Information
Accessories used with this product