Smarter Spotter Expansion Wrap
Features
Made in the USA!
Expands an existing 26" diameter Smarter Spotter trainer to a 30" diameter trainer.
For larger or more age diverse group of students. Teaches proper technique for back handsprings, back walkovers, front handsprings and front walkovers.
Ideal for taller students up to 54" tall.
Wraps can be quickly and easily attached and removed during class, allowing the instructor to adjust the curriculum for different students during a session or rotation.
Description
Expansion Wrap for Smarter Spotter Gymnastics Handspring Trainer
Converts 26" diameter Smarter Spotter to 30"

---

Our NEW Smarter Spotter Wraps allow you to increase the overall size of our Smarter Spotter, making it more versatile to use with a larger or more age diverse group of students. Wraps can be quickly and easily attached and removed during class, allowing the instructor to adjust the curriculum for different students during a session or rotation.

(DOES NOT INCLUDE the 26" Smarter Spotter - Sold Separately)
Specifications:
Expands an existing 26" diameter Smarter Spotter trainer to a 30" diameter trainer.
Ideal for taller students from 48" to 57" (4' to 4' 9") tall .
Available in Blue, Purple, or Red.
DOES NOT INCLUDE the 26" Smarter Spotter - Sold Separately.
Price includes ground shipping within the contiguous USA.
Made in the USA.
Note: Blue, Purple: Ships out in 1-2 days
Note: Red: Ships out in 2 weeks
---
Customers also Purchased …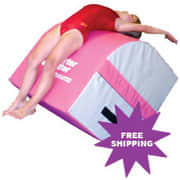 Smarter Spotter
---

Made in the USA