Octagon Half
Features
Splitting an octagon in half gives you two mini vaults or hurdles useful for training cartwheels and other exercises.
Constructed with high density foam and rugged 18 oz. covers.
Halves connect with hook & loop (like Velcro) fasteners that fold away when not it use. Only available in Royal blue with yellow sides.
Made in the USA
Description
Half-Octagon Skill Shape for Gymnastics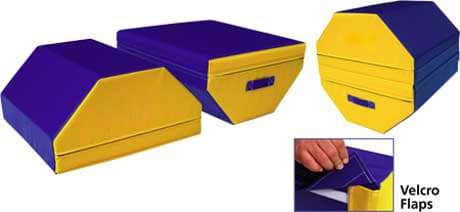 Splitting an octagon in half gives you two mini vaults or hurdles useful for training cartwheels and other exercises. Constructed with the same high density foam and rugged 18 oz. covers as our gymnastics Octagon Tumblers. Sections connect with hook & loop (like Velcro) fasteners that fold away when not it use. Only available in Royal blue with yellow sides.
Available in three sizes:
Half of a 20" x 20" x 28" octagon (7.5 lbs.)
Half of a 25" x 25" x 30" octagon (11.5 lbs.)
Half of a 30" x 30" x 32" octagon (13.5 lbs.)
Also available are Complete Octagon Tumblers.
If you are planning on connecting this item to an existing octagon half that you already own, please contact us to ensure that the hook & loop (like Velcro) fasteners will be paired correctly.

All prices include ground shipping within the contiguous USA.

This product is made-to-order. Please call for current delivery timeframe.





California Residents: California Proposition 65 Warning Information