Mini Mounting Block
Features
This foam mounting block is the ideal gymnastics mounting block for kids. This mini mounting block measures 22"x32"x 8" and is filled with high-density multi-layered foam. It is covered with tough 18oz coated vinyl and has handles on both sides for easy transport and positioning - kids can even do it themselves!
Weight: approx. 8 lbs. Available in 3 colors.
Webbing handles for easy positioning.
Made in the USA
Description
Mini Mounting Block for Gymnastics
Click to enlarge

Red Top Gray Sides
Blue Top Yellow Sides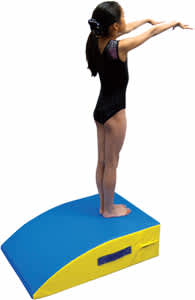 Another wonderful piece of kids gymnastics equipment is the Mini Mounting Block. This foam mounting block is the ideal gymnastics mounting block for kids. This mini mounting block measures 22"x32"x 8" and is filled with high-density multi-layered foam. It is covered with tough 18oz coated vinyl and has handles on both sides for easy transport and positioning - kids can even do it themselves!
Size: 22"x31"x9".
Weight: approx. 8 lb.
Available in 3 colors.
Webbing handles for easy positioning.
NOTE: This is not to be used as a gymnastics springboard.
Please allow 1-2 weeks for production and delivery.




California Residents: California Proposition 65 Warning Information