Fun Cube
Features
Increases the fun factor and takes entertaining educational activities to a playful new plane. Fun cubes can be laid flat to create a common play pad or folded into shape and secured with a large hook & loop (like Velcro) fastener flap to produce a modular, four-sided creative center.
The fun cube panels are filled with a unique 70 ILD polyfoam/polyethylene combination and are covered with 18 oz. coated vinyl in a mixture of blue, yellow, light blue and red (as shown).
Open Size: 96" x 24" x 3" (12 lbs.)
Made in the USA
Description
Gymnastics Fun Cube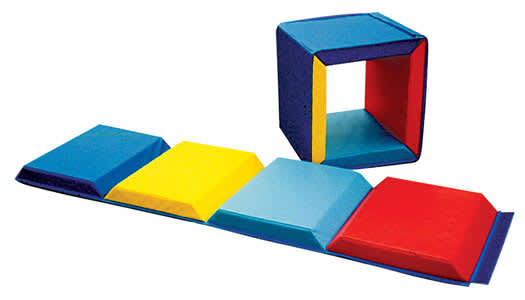 ---
Increases the fun factor and takes entertaining educational activities to a playful new plane. Fun cubes can be laid flat to create a common play pad or folded into shape and secured with a large hook & loop (like Velcro) fastener flap to produce a modular, four-sided creative center.

The fun cube panels are filled with a unique 70 ILD polyfoam/polyethylene combination and are covered with 18 oz. coated vinyl in a mixture of blue, yellow, light blue and red (as shown).
Open Size: 96" x 24" x 3" (12 lb.)
Price includes ground shipping within the contiguous USA.
This product is made-to-order. Please call for current delivery timeframe.



California Residents: California Proposition 65 Warning Information