4-Step Mat
Features
Our 4-step kids foam mats are filled with a 70 ILD polyurethane foam base topped with a layer of firm crosslink foam for additional support and a much longer life.
Our Soft Foam Steps are ideal for young children who are developing large motor skills and/or for creative play.
Covers are fabricated of brightly-colored 18 oz. vinyl-coated polyester.
28"H x 30"W x 44"L, 34 lbs.
Made in the USA
Description
4-Step - Kids Foam Steps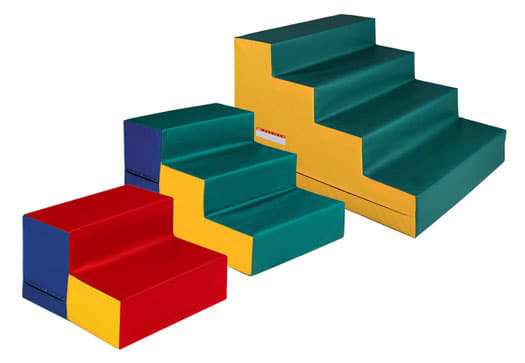 Our 4-step kids foam mats are filled with a 70 ILD polyurethane foam base topped with a layer of firm crosslink foam for additional support and a much longer life. Covers are fabricated of brightly-colored 18 oz. vinyl-coated polyester.
Our Foam Steps are ideal for young children who are developing large motor skills and/or for creative play. Also excellent for stepping up to a trampoline. Available in three sizes:
Specifications:
28"H x 30"W x 44"L
34 lbs.
Green top. Yellow sides
Request a quote for custom color combinations from chart below.


Made in the
USA
California Residents: California Proposition 65 Warning Information