Half Donut
Features
Prices per half - two required to make a complete donut.
Form an obstacle course, or attach two of them end-to-end (using the hook & loop (like Velcro) fastener strips) to make a whole donut.
Made in the USA
Description
Gymnastics Half-Donut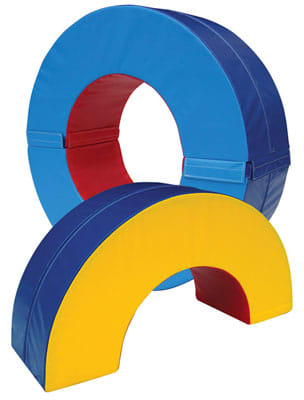 Rock'em, lay'em on their sides and form an obstacle course, or attach two of them end-to-end (using the hook & loop (like Velcro) fastener strips) to make a whole donut. No matter how you use our Round Donut Halves, you'll have a "hole" lot of fun. We supply random multiple colors (generally ships faster) or choose from one of our other custom color combinations. Diameter measurements are based on a full circle (requiring two halves).
Specifications:
18" wide x 52" diameter (30 lb.)
Made with 70 ILD polyfoam core and sturdy 1-3/8" crosslink side walls.
All prices include ground shipping within the contiguous USA. This product is made-to-order. Please call for current delivery timeframe.

California Residents: California Proposition 65 Warning Information