Throw Mat (4", Large)
Description
Large Throw Mat - 7' wide or wider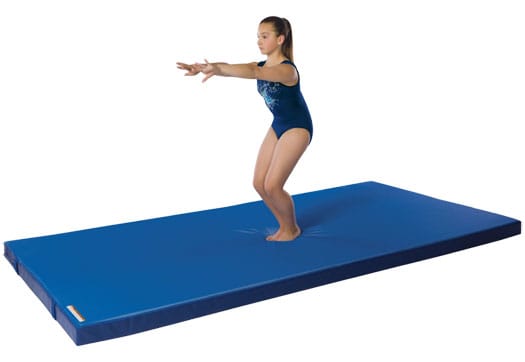 A custom shipping quote is required for the following items due to their large size and weight.

Size

Non-Folding

Folding

7' x 10'

$605

N/A

7'6" x 15'

N/A

$970
Note: Prices shown DO NOT include shipping costs. A shipping quote is required.
These throw mats are intended for use as an additional landing surface for practice and/or competition. Cover consists of a mesh breather top and 18oz. coated vinyl sidewalls/bottom with 2" nylon webbing handles on side and ends. All seams are double stitched. These mats are filled with prime 55 ILD polyurethane foam selected for its energy absorption properties.
Specifications:
Durable 18 oz. fabric cover.
Thickness: 4"
Carrying handles on short ends and one long side.
Custom color combinations for cover and breather mesh are available in colors shown below.
Usage approved by FIG and USAG.
This product is made-to-order. Please call for current delivery timeframe.
Common Uses and Applicatoins:
Additional fall protection mat for gymnastics routines
Martial arts and other fight takedown training, as well as any other on-ground crashes.
For physical therapy and rehabilitation, crash and fall protection around exercise equipment or anywhere else patients may fall and get injured during sessions.
Training classes in law enforcement, police academies, fire fighting, and military combat training facilities.


Made in the USA
California Residents: California Proposition 65 Warning Information