Cloud Mat for Gymnastics (Denim Cover)
Gymnastics practice mat with a unique denim (no vinyl) cover!
Features
Filled with soft poly foam and covered in soft but strong denim cover.
Thickness: 4" to 12"
Carrying handles on the end.
The Cloud Mat is to be used over additional padding and never on a hard surface by itself.
Made in the USA
Description
Cloud Landing Mats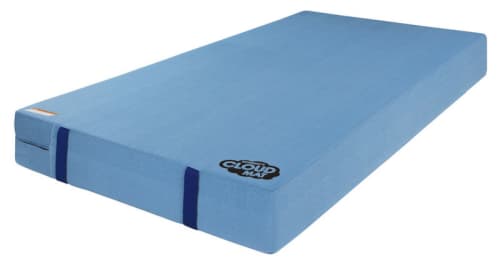 These gymnastics landing mats provide a great landing surface whether at practice or competition. Depending on the thickness, these are also used in other sports as crash mats or stunt mats. These high quality products are made in the USA and often used for commercial use in the gym or for practice at home.
They are made with a soft poly foam which creates excellent cushion and provides confidence during training. These thick landing mats lead to a soft landing which reduces the potential for injuries during practice or competition. Whether using these mats for cheerleading, gymnastics or martial arts, they are excellent for learning new skills or improving your proficiency with landings or rolls!
Specifications:
PRODUCT UPDATE: The 4'x6'x8" cloud mat has now been accepted for use in Junior Olympic Competition for Bar Releases!
Filled with soft poly foam and covered in a soft and strong denim cover.
Thickness: 4", 8", or 12".
2" nylon webbing carrying handles on the ends.
The Cloud Landing Mat is intended to be used over existing padding.
Common Uses and Applications
Light-duty crash mats or stunt mats.
In Capoeira Acrobatics Classes, as crash protection while learning to perform flips

Made in the USA
California Residents: California Proposition 65 Warning Information