Rolled Rubber Flooring (1/4" and up)
Description
Rolled Rubber Flooring Rolls (Heavy Duty)
These rubber flooring rolls offer excellent durability and are great for both interior and exterior applications. Our Rolled Rubber offers excellent performance, durability, and appearance. It is also excellent for surfacing (or as underlayment) for areas that require resilience, sound absorption, spike resistance and/or traction. In fact, they have a great deal of versatility for many applications. The 100% recycled rubber flooring rolls are specially designed and manufactured for durability and also serve as an effective buffer against acoustical vibration.
The non-slip surface is easy to clean and maintain and will be your floor solution for many years to come. These eco-friendly rolls of rubber are manufactured in the USA from recycled American scrap tires.
Features
Reduces noise and vibrations.
Perfect for indoor as well as outdoor use.
Made of 100% Premium Recycled Rubber.
Provides Excellent Traction - even when wet!
Factory cut edges to assure a uniform installation.
Commercial grade, shock absorbing, anti-fatigue rubber flooring.
Durable and aesthetically pleasing.
Easy cleaning: Indoor cleaning involves a broom, damp sponge, mop or vacuum cleaner. For outdoor uses, a water hose, leaf blower or broom is sufficient.
When reordering, please note that colors may vary just slightly.
Keep in mind, rubber always has a "rubber" odor that will diminish over time.
Variety of colors:

Solid black
Colored: Solid black with 20% color fleck added. 6 fleck colors from which to choose.
Natural: Mostly solid black with randomly scattered flecks of possibly random color. Some areas on the rolls may show more color flecks than other areas.

Customize your fitness area to any size. Rolls may be easily trimmed if necessary or desired.
Guaranteed to be free of manufacturing defects in material and workmanship for 2 years.
Advantages of Using Rolled Rubber Flooring
| | |
| --- | --- |
| Durable. | Made from premium recycled rubber particles (and colored EPDM rubber in colored rolls), each product is specifically designed and manufactured for durability. |
| Resilient. | Anti-fatigue qualities found naturally in rubber are further enhanced by a space age polymer binder used during manufacturing. Each roll is fabricated from thousands of rubber granules and offers superior underfoot comfort and resilience to cushion the shock from running, exercising, walking and standing. |
| Aesthetically Pleasing. | This product is available in a variety of colors (20% color content), natural, or completely black. The colored particles are homogeneously mixed throughout the entire product and have no chance of wearing away. The vibrant colors are perfect for dramatic interior solutions and exterior accents. |
| Installation. | Factory sheared edges and controlled manufacturing environments ensure high quality installation. Rubber Flooring Install Instructions |
| Safe for Indoor or Outdoor Uses. | Rolled Rubber products are safe to use indoors or outdoors. However, most colored material is suggested to be used exclusively indoors to minimize UV exposure and potential fading. |
| Easily Cleaned. | Indoor cleaning involves a broom, damp mop or vacuum cleaner. Outside, a water hose, leaf blower or broom is sufficient. If desired, a mild detergent can be used to sanitize the flooring. |
| Designed to Provide | Excellent traction... even when wet! |
| Manufactured Entirely Within the USA. | Only a handful of rubber sheet, mat or rolled manufacturers can say that their product is 100% American Made. Manufactured in the USA and raw materials are also sourced from within the United States. |
| Manufactured of Premium Recycled Rubber. | Free from fillers or contaminants and re-recyclable. Rolled Rubber in solid black is manufactured of 88% post-consumer recycled rubber materials, namely scrap tires. (Colored rolls have 71% post-consumer product.) Because of this high level of reused material in each roll, this product meets and exceeds the requirements set forth in Executive Order 13101, Greening the Government. Each year, the manufacturing of these and other rubber products prevents over 4 million scrap tires from being landfilled. |
---

We also carry
rubber interlocking tiles
---
Specifications:
Material: SBR bonded granular recycled rubber (with EPDM in colored tiles)
Thickness: 1/8" (3.2mm), 1/4" (6.4mm), 3/8" (9.5mm), 1/2" (12mm)
Width: 4' or 5'
Length: Standard 25', Standard 50', or Custom Length up to 100'
Density: ASTM D-3676, 60 lb/cf
Shearing Strength: Less than 0.06 (N/mm2)
Tensile Strength: Less than 1.80 (N/mm2)
Commercial, Residential and Recreational Uses:
Facilities for Dogs, Horses, Other Animals: 1/8" thickness is not sufficient for animal use. See versions of this product specific to small animal facilities such as doggy daycare or livestock flooring.
Patios & Decks
Wheelchair Ramps - Especially outdoors where a wet ramp after rain or snow provides insufficient traction for wheelchairs
Crossfit and Weightlifting Gyms - Perfect flooring to endure repeated dropping of weights
Warehouses and Manufacturing Assembly Lines - Reduce worker injury claims and improve productivity by installing a non-slip slightly cushioned rubber runner
Boat Docks and Boat Ramps - A must-have to always provide a high traction surface
Basements
Home Gyms
Changing Areas
Fitness Centers, Health Clubs, Gyms - The typical, elegant and functional gym flooring
Golf Course Lounges
Handicap Accessways
Stair Treads (indoor or outdoor) - Cut to size and glue onto each step to prevent dangerous slips and falls.
Ice Rinks - All ice rinks need flooring around the rink that is resilient against the punishing blades of ice skates
Gardens
Runways & Walkways
School Facilities
Ski Lodges and Ski Rental Shops - These environments require durable flooring that can endure this kind of continuous traffic
Spike Protection when trying on golf shoes or ice cramp-ons
Sub-floor Protection
Cargo Conex Shipping Container Floor Liner
---
Click a Color Sample Below to Enlarge
| | | | |
| --- | --- | --- | --- |
| | | | |
| | | | |
| | | | |
| | | | |
| | | | |
---
Optional Adhesive Glue for Installation:
MasterWeld 941 Polyurethane Adhesive - Trowel grade. Dries to a tan color, therefore DO NOT APPLY TO TOP SURFACE. Covers approx. 80-90 square feet per gallon (use 3/16"x1/4"x1/4" trowel).

For permanent installations, MasterWeld Installation adhesive (glue) is available in by the gallon for installation with a trowel (MasterWeld 941). This adhesive is a one-component polyurethane-based, structural, industrial grade adhesive. Elastomeric properties enable it to move with rubber as it expands and contracts. The patented formula is VOC compliant, non-flammable, and contains no solvents or water. It has freeze-thaw stability (unlimited cycles). The adhesive provides excellent initial grab and outstanding bond strength. It is formulated for indoor and outdoor applications on concrete, asphalt, rubber, cork, plywood, particle or chip board, cement, gypsum underlayment, and over radiant heat flooring. When lightly misted with water, drying time is accelerated and will fully bond in just over 2 hours.
---
Optional Double-Sided Tape for Installation:
Sure-Grip Double Sided Pressure Sensitive (DSPS) Tape, 3" x 75', 3 lb per roll (24 lb. per case of 8)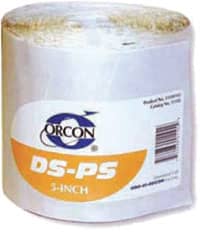 For temporary or lease installations, a great option is our Double-Sided Pressure-Sensitive (DS-PS) tape by Sure-Grip. In situations where you will need to remove the floor in the future, or if you are renting the space and are not allowed to glue the floor down, this double-sided tape is the perfect solution for mounting your rubber rolls to the floor. It will keep your floor in place while still being removable in the future.
---
Optional Seam Sealant:
SikaFlex 227 Seam Sealant - Caulk Tube Size. Dries glossy black. Do not apply directly to top surface. Apply to edges of seams such that material will be flush with top surface. Wipe off any overflow onto top surface immediately.

Seams may be sealed on the edges using the black colored SikaFlex 227 adhesive/sealant (DO NOT USE MasterWeld 941 above, as it dries to a tan color). Available in gun grade for use with a caulking gun.
---
Rolled Rubber Size and Pricing Guide
(1/4", 3/8", 1/2")
(These sizes ship via Freight
and require a shipping quote)


Roll Size

Weight


Natural
(per roll)

Solid Black
(per roll)

Colored
(per roll)

4'x25'x1/4" (6.4mm)

127 lb.

$109.99

$129.99

$169.99

4'x25'x3/8" (9.5mm)

192 lb.

$169.99

$189.99

$229.99

4'x25'x1/2" (12mm)

254 lb.

$219.99

$239.99

$289.99

4'x50'x1/4" (6.4mm)

254 lb.

$219.99

$249.99

$339.99

4'x50'x3/8" (9.5mm)

384 lb.

$329.99

$369.99

$459.99

4'x50'x1/2" (12mm)

508 lb.

$449.99

$489.99

$559.99

5'x25'x3/8" (9.5mm)

240 lb.

$209.99

$229.99

N/A

5'x50'x3/8" (9.5mm)

480 lb.

$409.99

$459.99

N/A

Custom Sizes
(4' or 5' wide, up to 100' long)

Request A Quote For Product & Shipping Below

Note: Prices shown are for product only and DO NOT include shipping costs. A shipping quote is required.

Accessories used with this product