K-Marble Anti-Fatigue Mat (1/2")
Features
Our K-Marble anti-fatigue matting (marble step) with vinyl top is made in the U.S.A with a marbleized PVC surface bonded with our "No Glue Bond" technology to a 3/8" closed cell PVC sponge base (total thickness is 1/2"). Bonded with heat instead of adhesi
Attractive, long lasting, durable surface. Resilient foam provides anti-fatigue comfort. Also has tapered edges for safety.
Surface is easy to clean and resists common chemicals and solvents when cleaned regularly.
Ideal for areas that require frequent sweeping such as beauty salons or wood shops. Other recommended uses include: dry work areas, hospital and laboratory environments, service counters, assembly lines, and shipping and packaging work cells.
Made in the USA
Description
K-Marble Anti-Fatigue Matting With Smooth Vinyl Top (Marble Step)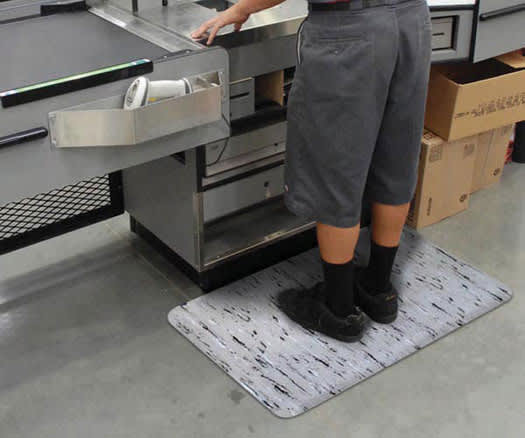 click to enlarge
Gray with
Black/White

Black with
White

Blue
Marbleized PVC surface bonded with our "No Glue Bond" technology to a 3/8" closed cell PVC sponge base.
Ideal for areas that require frequent sweeping such as beauty salons or wood shops.
Bonded with heat instead of adhesives. A "No Glue Bond" means "No Delamination."
Attractive, long lasting, durable surface.
Resilient foam provides anti-fatigue comfort.
Surface is easy to clean and resists common chemicals and solvents when cleaned regularly.
Tapered edges for safety.
Thickness: 1/2"
Limited 3-year warranty against wear and 1-year warranty against delamination (not guaranteed against damage from high heels, casters or stool legs).
Available in 3 colors.
| | | | |
| --- | --- | --- | --- |
| Anti-Slip Traction | Anti-Fatigue | Wear Resistant | Made in the USA |
Recommended Uses:

For dry work areas.
Hospital and laboratory environments.
Service counters.
Assembly lines.
Shipping and packaging work cells.

Specifications:

Product Weight: 1.5 lb/sf
---
Customers also Purchased...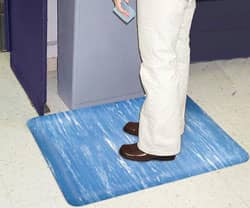 Marble Anti-Fatigue Matting